Product Summary
The MRF177 is a MOSFET line. Designed for broadband commercial and military applications up to 400 MHz frequency range. Primarily used as a driver or output amplifier in push–pull configurations. Can be used in manual gain control, ALC and modulation circuits.
Parametrics
MRF177 absolute maximum ratings: (1)drain-source voltage: 65V; (2)drain-gate voltage: 65V; (3)gate-source voltage: ±40V; (4)drain current: 16A; (5)Total device dissipation: 270W; (6)storage temperature range: -65 to 150℃; (7)operating temperature range: 200℃.
Features
MRF177 features: (1)Typical performance at 400 MHz, 28 V: Output power — 100 W ;Gain — 12 dB ; Efficiency — 60% (2)Low thermal resistance (3)Low Crss — 10 pF typ. @ VDS = 28 V (4)Ruggedness tested at rated output power ; (5) Nitride passivated die for enhanced reliability ;(6)Excellent thermal stability; suited for Class A operation.
Diagrams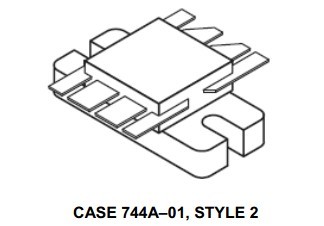 Image
Part No
Mfg
Description
Pricing
(USD)
Quantity

MRF177

M/A-COM Technology Solutions

Transistors RF MOSFET Power 5-400MHz 100Watts 28Volt Gain 12dB

Data Sheet



| | |
| --- | --- |
| 0-1: | $46.62 |
| 1-10: | $39.63 |
| 10-25: | $37.30 |
| 25-50: | $36.13 |

Image
Part No
Mfg
Description
Pricing
(USD)
Quantity

MRF1.6/5.6-LPJ-179U

Hirose Connector

RF Connectors Obsolete

Data Sheet

Negotiable

MRF1.6/5.6-LR-PC-1

Hirose Connector

RF Connectors Obsolete

Data Sheet

Negotiable

MRF1004MB

Advanced Semiconductor, Inc.

Transistors RF Bipolar Power RF Transistor

Data Sheet



| | |
| --- | --- |
| 0-1: | $50.40 |
| 1-10: | $42.00 |
| 10-25: | $37.80 |
| 25-50: | $33.60 |


MRF157

M/A-COM Technology Solutions

Transistors RF MOSFET Power 5-80MHz 600Watts 50Volt Gain 21dB

Data Sheet



| | |
| --- | --- |
| 0-1: | $309.00 |
| 1-10: | $295.20 |


MRF1511NT1

Freescale Semiconductor

Transistors RF MOSFET Power RF LDMOS FET PLD1.5N

Data Sheet



| | |
| --- | --- |
| 0-1: | $4.66 |
| 1-10: | $4.40 |
| 10-25: | $4.09 |
| 25-250: | $3.04 |


MRF141G

M/A-COM Technology Solutions

Transistors RF MOSFET Power 5-175MHz 300Watts 28Volt Gain 12dB

Data Sheet



| | |
| --- | --- |
| 0-1: | $113.36 |
| 1-10: | $109.58 |
| 10-25: | $105.80 |
| 25-50: | $102.03 |