Product Summary
The AN87C196LB is a high-performance 16-bit microcontroller with integrated support for the J1850 communication protocol. The AN87C196LB is composed of a high-speed core with the following peripherals: an asynchronous/synchronous serial I/O port (8096 compatible) with a dedicated 16-bit baud-rate generator;an additional synchronous serial I/O port with full duplex master/slave transceivers; a six-channel A/D converter with sample and hold; a flexible timer/counter structure with prescaler, cascading, and quadrature capabilities;six modularized, multiplexed high-speed I/O for capture and compare (called event processor array) with 200 ns resolution and double buffered inputs; and a sophisticated prioritized interrupt structure with programmable peripheral transaction server (PTS).
Parametrics
AN87C196LB absolute maximum ratings: (1)Storage temperature: -60 to +150℃; (2)Voltage from VPP or EA to VSS or ANGND: -0.5V to +13V; (3)Voltage from any other pin to VSS or ANGND: -0.5 TO 7.0v; (4)Power dissipation: 0.5W.
Features
AN87C196LB features: (1)20 MHz operation; (2)24 Kbytes of on-chip OTPROM; (3)768 bytes of on-chip register RAM; (4)Register-to-register architecture; (5)Peripheral transaction server (PTS) with high-speed, microcoded interrupt service routines; (6)Integrated, industry-standard J1850 communication protocol; (7)Six-channel/10-bit A/D with sample and hold; (8)High-speed event processor array:Six capture/compare channels; Two compare-only channels;Two 16-bit software timers; (9)Full-duplex serial I/O port with dedicated baud-rate generator; (10)Enhanced full-duplex, synchronous serial I/O port (SSIO); (11)Programmable 8- or 16-bit external bus; (12)Optional clock doubler with programmable clock output signal; (13)SFR register that indicates the source of the last reset; (14)Design enhancements for EMI reduction; (15)Oscillator failure detection circuitry; (16)Watchdog timer (WDT); (17)–40° C to +125° C ambient temperature; (18)52-pin PLCC package.
Diagrams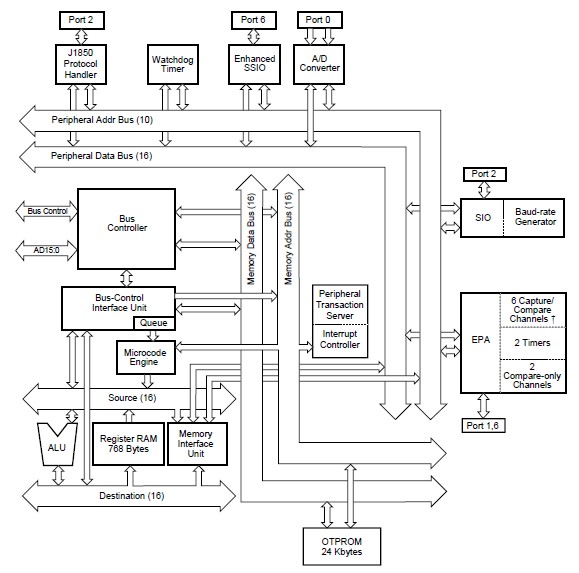 AN87C196KDF8



IC MCU 16-BIT 5V 32K OTP 68-PLCC

Data Sheet

Negotiable

AN87C196KC16F8



IC MCU 16-BIT 5V 16K OTP 68-PLCC

Data Sheet

Negotiable

AN87C196JV20F8



IC MCU 16-BIT 5V 48K OTP 52-PLCC

Data Sheet



| | |
| --- | --- |
| 0-1: | $11.87 |
| 1-10: | $10.98 |
| 10-100: | $9.34 |
| 100-250: | $8.60 |
| 250-500: | $8.50 |


AN87C196JTWB20



IC MCU 16-BIT 5V 32K OTP 52-PLCC

Data Sheet



| | |
| --- | --- |
| 0-1: | $9.77 |
| 1-10: | $8.88 |
| 10-100: | $7.55 |
| 100-250: | $6.88 |
| 250-500: | $6.44 |


AN87C196JTWB



IC MCU 16-BIT 5V 32K OTP 52-PLCC

Data Sheet



| | |
| --- | --- |
| 0-1: | $9.77 |
| 1-10: | $8.88 |
| 10-100: | $7.55 |
| 100-250: | $6.88 |
| 250-500: | $6.44 |


AN87C54F8



IC MCU 8BIT 16K 16MHZ OTP 44PLCC

Data Sheet



| | |
| --- | --- |
| 0-1: | $6.71 |
| 1-10: | $6.10 |
| 10-100: | $5.18 |
| 100-250: | $4.72 |
| 250-500: | $4.42 |